highlyeccentric
Currently reading:
For work, still La Belle Hélène de Constantinople. For funsies, alternating between Ken Liu's 'The Paper Menagerie and other Stories' and Heather Rose Jones' 'The Mystic Marriage'. I'm also working on a recording of 'The Night Fairy' for little sis' birthday.
Recently finished:
Why Be Happy When You Could Be Normal?
by
Jeanette Winterson
My rating:
4 of 5 stars
I loved this. I wasn't sure what it would have to offer that
Oranges
hadn't already covered - much of what I liked about the first half was the same as stuff I liked about Oranges. Not the narrative but the ways of phrasing and framing things. And that carried through into the second half - Winterson's ways of talking about literature, madness, family, and so on. I have highlighted many bits for savouring later.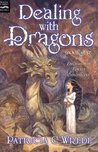 Dealing with Dragons
by
Patricia C. Wrede
My rating:
5 of 5 stars
This was the most adorable thing I have read for quite some time. I shall purchase more asap.
Daughter of Mystery
by
Heather Rose Jones
My rating:
4 of 5 stars
WELL.
What I expected: a decent pulp romance in a typically melodramatic pseudo-medieval setting, held together but juuuuust enough world-building to float the romantic drama.
What I got: a coherent, well-built 17th-century setting (identifiable as 17th c by dress, weaponry, and references to the 'French Wars'), a neatly plotted family drama, surprisingly complex legal sub-plots, and a reasonably well-structured magical-realist take on saint's cults, all laced together in an engaging and compelling fashion.
It's not dense - it's not a masterpiece of high fantasy or a historical fiction epic. But it's GOOD.
Peculiarly, the element I was most disappointed with was the romance plot. I simply wasn't convinced by one half of the pairing - I could see that one of them had fallen in love with the other, but it felt like steps were missing on the other side. I was also super disappointed with the 'rides into the sunset' ending, which... no. Everything previously established in this 'verse says you can't just DO that - neither pick up an heiress and ride into the sunset with her, nor in fact live out of 'one purse' as two unmarried persons! I'm also not convinced by the character work leading to the notion that either party would *want* to do that. Newsflash, universe: you can in fact have a lifelong partnership without complete financial interdependence! And in until very recently many if not all same-sex partnerships would have done just that - either because one of them depended primarily on the other (woman and 'companion'), or because from a more stable footing there simply was no legal capacity or need to effect such merger. If you aren't being married, then neither of you is property of the other, so *you do not need to utterly merge your financial and legal persons*, and you quite likely can't do so if you wish to!
Up Next:
Hmm, well, I have another Phryne Fisher book for the UK trip - I probably need to make a few more kobo purchases before the card it's attached to expires (parents are bringing me the replacement, but it'll take some faffing around to activate the card).
Music notes:
I am suddenly and drastically obsessed with Amy MacDonald. Have purchased the 'This is the life' double album; have my eye on the orchestral collab as well.