What are you currently reading?
Alan Dean Foster's Star Wars: The Force Awakens novelisation, mostly. Plus a book of Australian short stories. And some stuff for work.
Recently read?
Summer's End
by
Harper Bliss
My rating:
2 of 5 stars
Blech. I mentioned to a friend I'd been reading some Riptide romances, and said friend recommended Harper Bliss for f/f romance. This was on kindle, so why not? Many reasons why not, it turns out: white people in an "exotic" location of emotional self-discovery or whatever. White people in S-E Asia who have lived there for many years and yet inexplicably still go swimming at midday (seriously, recipe for DYING OF SUNBURN, much?).
Many of these things I could overlook. I could even, on the basis of genre, overlook "healthy summer romance turns into co-dependent long-distance wtf". But if I wanted Magical Healing Cock (seriously! It was a dildo, but nevertheless, it was a Magical Healing Dildo) I'd go read early 2000s slash fiction.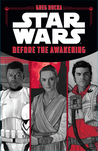 Star Wars: Before the Awakening
by
Greg Rucka
My rating:
4 of 5 stars
This was fun! I wasn't sold on Rucka's Finn story - especially not when Alan Dean Foster's Finn POV snippets in the novelisation are much more plausible, and do more with less - but Rey and Poe's were both great.
Funeral Games: A Novel of Alexander the Great: A Virago Modern Classic
by
Mary Renault
My rating:
4 of 5 stars
Hmmm. I'm not sure that I liked the super-wide scope of this one, with so many focalising characters. It was necessary, I suppose, to encompass the full political spectrum, but it felt like it was short-changing most of the possible character work. Bagoas, in particular, had no character development. I felt like I would have rather read a novel solely about Ptolemy, or solely about Euridyce, than one which tried to do all these things at once: but neither of those would necessarily have been a good conclusion to the Alexander trilogy.
Fresh from the Vegetarian Slow Cooker: 200 Recipes for Healthy and Hearty One-Pot Meals That Are Ready When You Are
by
Robin G. Robertson
My rating:
2 of 5 stars
Less interesting than I'd hoped.
Up Next:
Well, I bought a compendium of novelisations of the prequel trilogy, which might allow me to revisit Attack of the Clones with less pain than would be induced by having to watch Hayden Christian and remember that I once found him attractive.